How Do Solar Panels Work?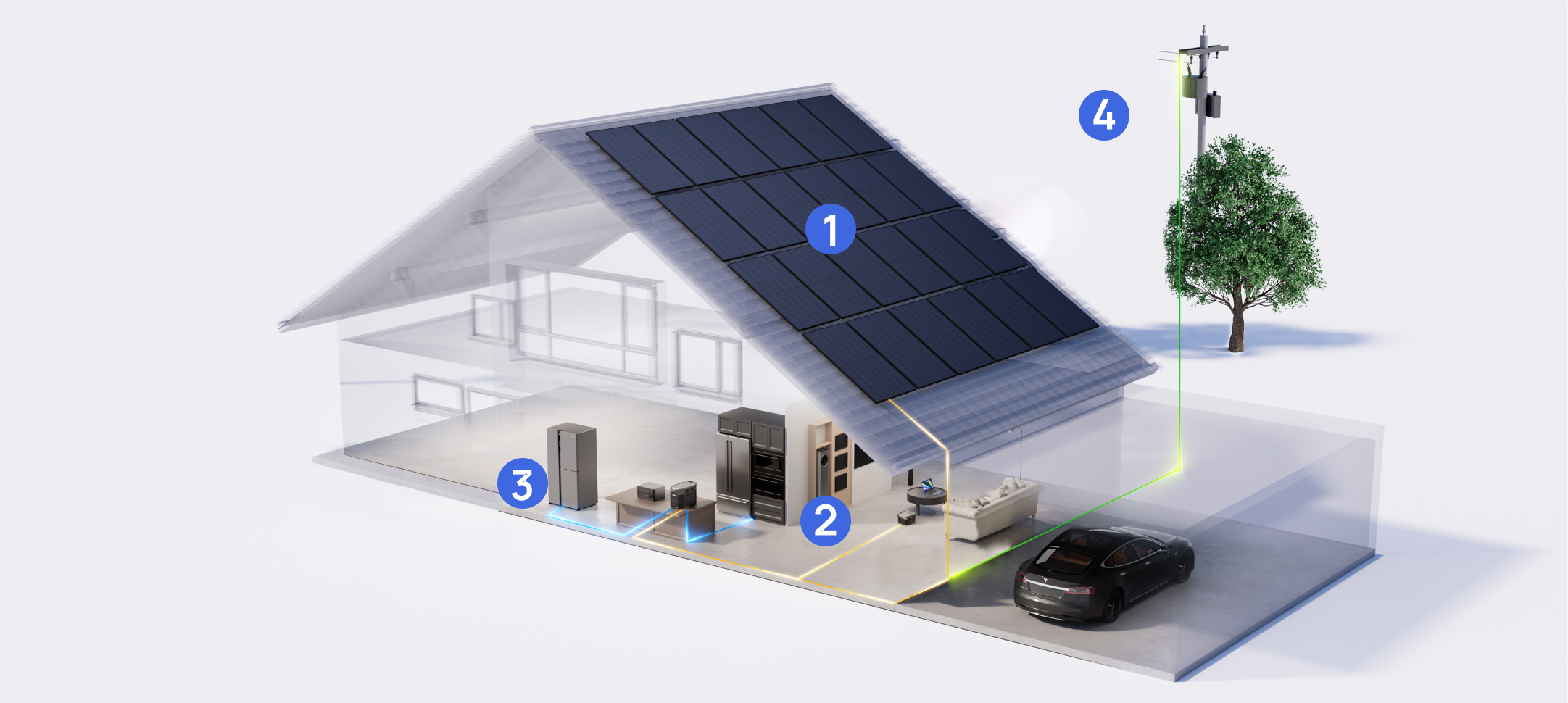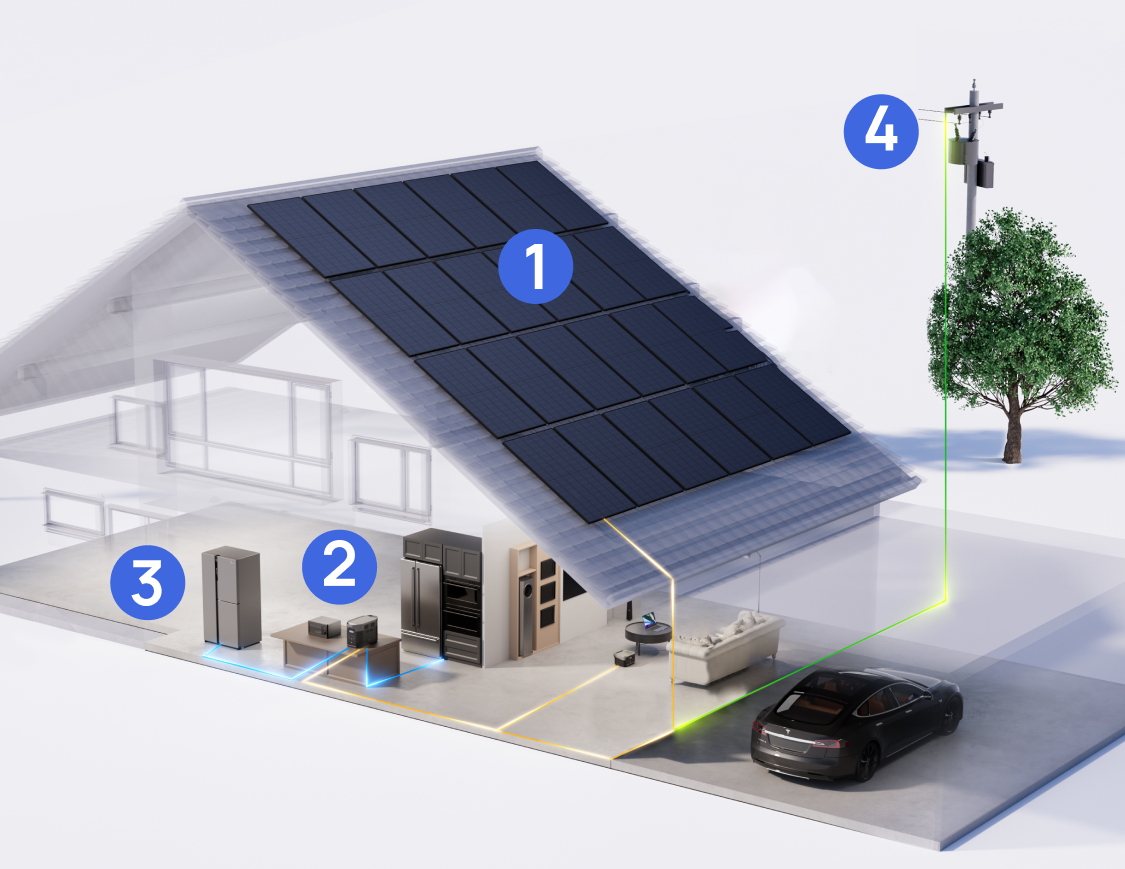 1
Solar panels convert sunlight into DC
(direct current).
2
An inverter turns DC into AC (alternating current) so it
can be used to run appliances.
3
Energy is sent to your home.
4
Spare electricity goes into the power grid or is stored in batteries for later use.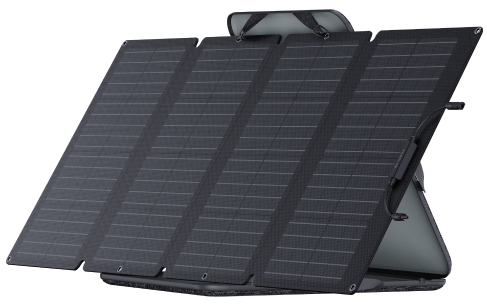 160W Portable Solar Panel
Cell Type
Monocrystalline Silicon
Weight
Approx. 12.3lbs (5.6kg)
Dimensions
62.6×27.0×0.98 inch (Unfolded)
16.9×27.0×0.98 inch (Folded)
Open Circuit Voltage
21.4V(Vmp 18.2V)
Short Circuit Current
9.6A(Imp 8.8A)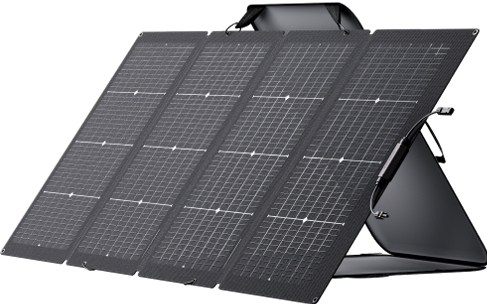 220W Bifacial Portable Solar Panel
Rated Power
220W(+/-5W) Front/155W Rear
Cell Type
Monocrystalline Silicon
Efficiency
22-23%(≥22.8%)
Weight
Approx. 12.3lbs (5.6kg)
Dimensions
72.2×32.3×0.98 inch (Unfolded)
32.3×19.7×1.3 inch (Folded)
Open Circuit Voltage
21.8V (Vmp 18.4V)
Short Circuit Current
13A (Imp 12.0A) Front Side/ 8.8A (Imp 8.4A) Rear Side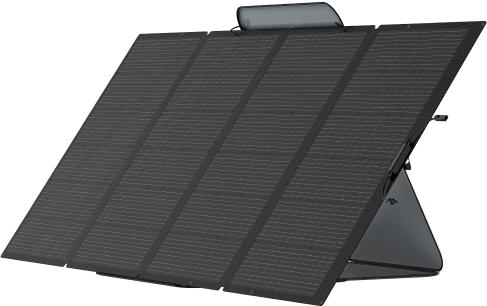 400W Portable Solar Panel
Cell Type
Monocrystalline Silicon
Efficiency
22%~23%(≥22.6%)
Weight
Approx. 12.3lbs (5.6kg)
Dimensions
93.1×41.7×0.98 inch (Unfolded)
24.4×41.7×0.98 inch (Folded)
Open Circuit Voltage
48V (Vmp 41V)
Short Circuit Current
11A (Imp 9.8A)
100W Rigid Solar Panel
Cell Type
Monocrystalline Silicon
Weight
Approx. 13.7 lbs (6.2Kg)
Dimensions
38.6×23.1×1.2 inch
Open Circuit Voltage
20.3 V
Short Circuit Current
6.3 A
Why Choose
EcoFlow Solar Panels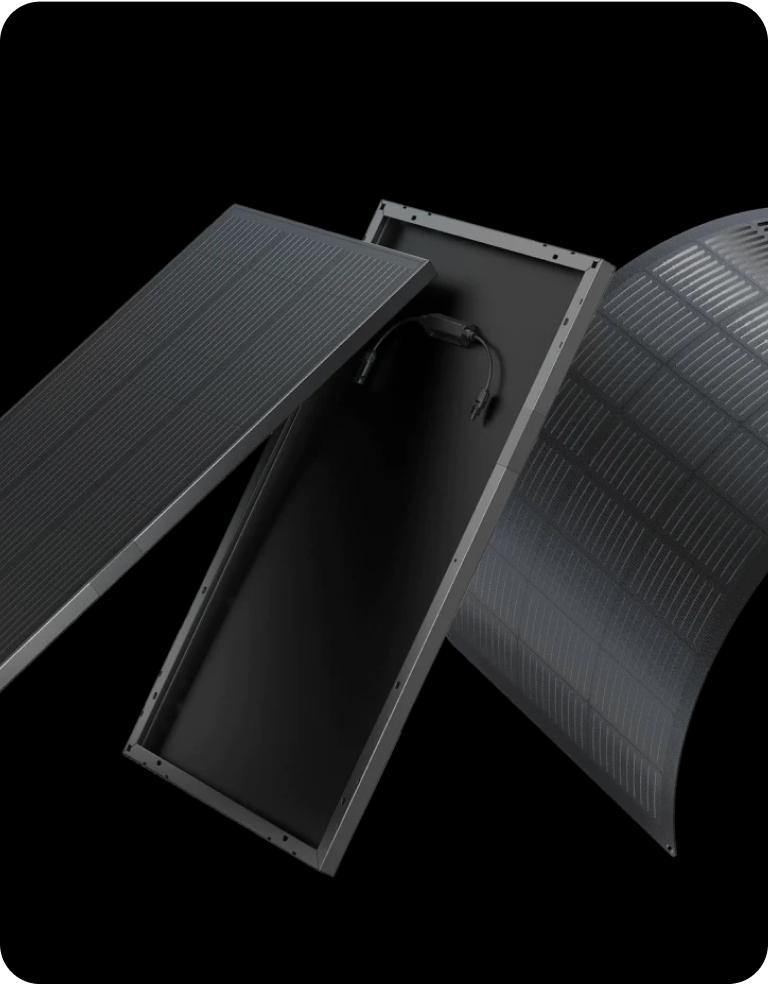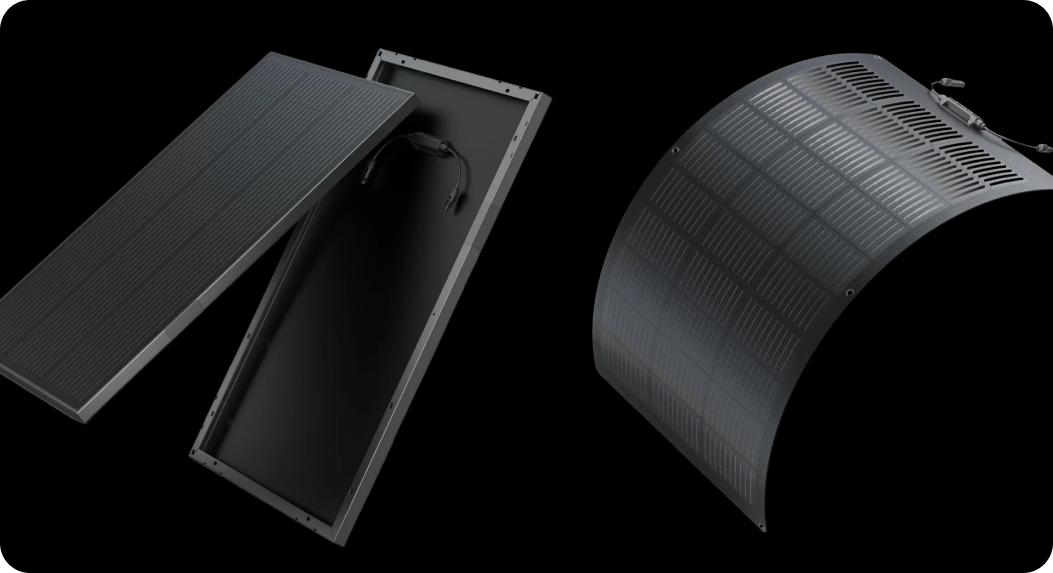 Wide Variety of Types and Wattage
EcoFlow offers an exceptional range of solar panel types, from portable, folding solar panels with built-in self-supporting stands to lightweight, easy-to-attach flexible solar panels and robust, rigid solar panels. Plus, with wattages from 60-400W, we've got your every power need covered. Connect them in parallel and series to get the most out of your panels.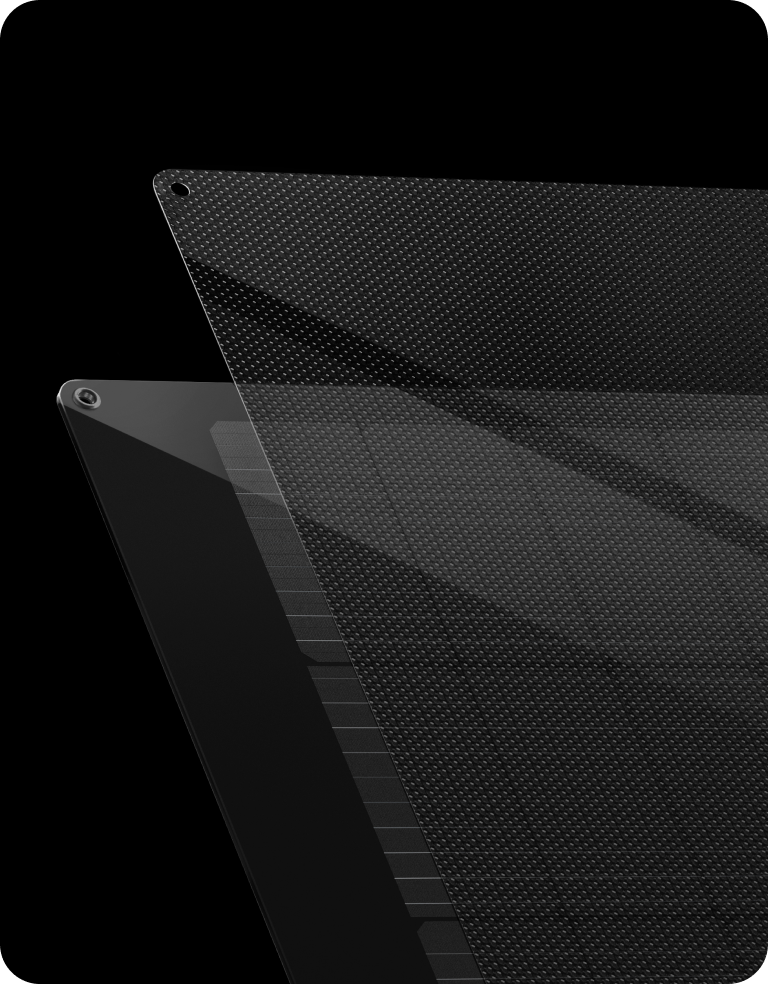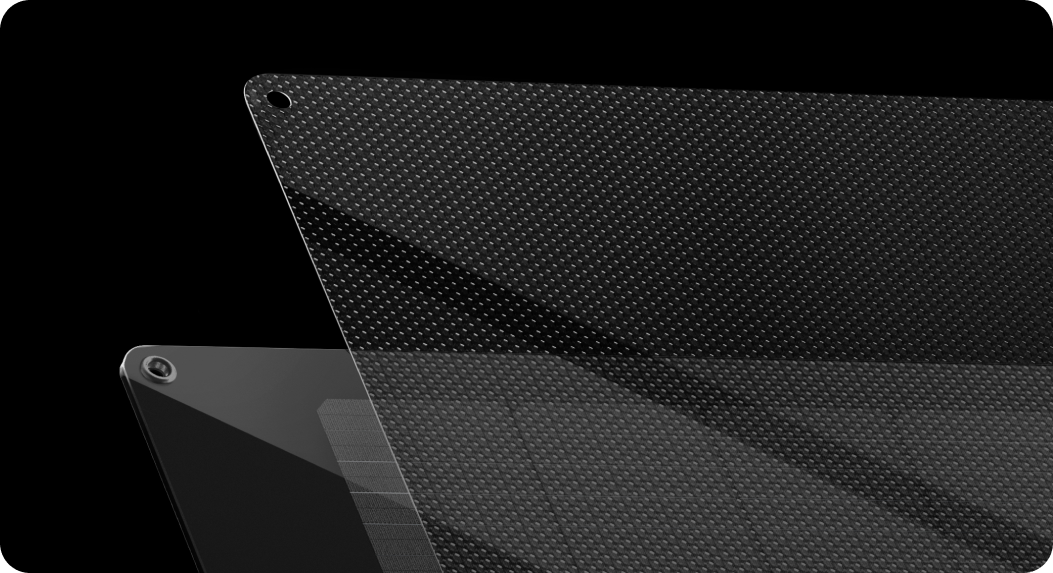 Highly Efficient
All EcoFlow solar panels are made from extremely efficient monocrystalline solar cells, providing conversion efficiency rates of between 22-23.4%, so that you get more electricity than with other cell types.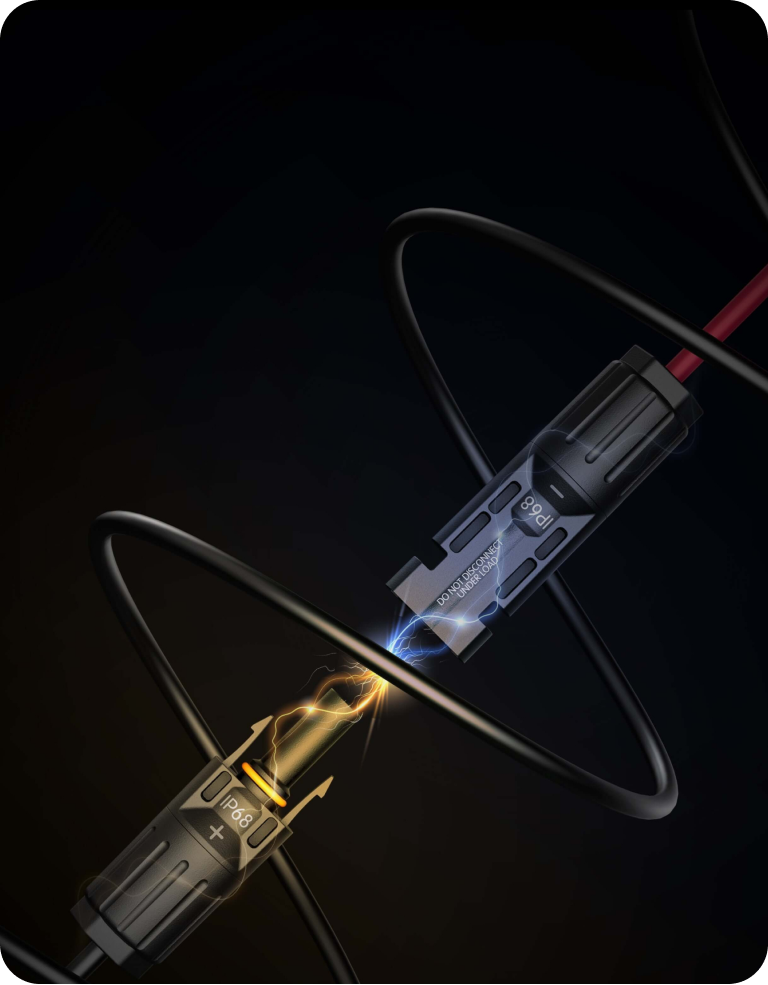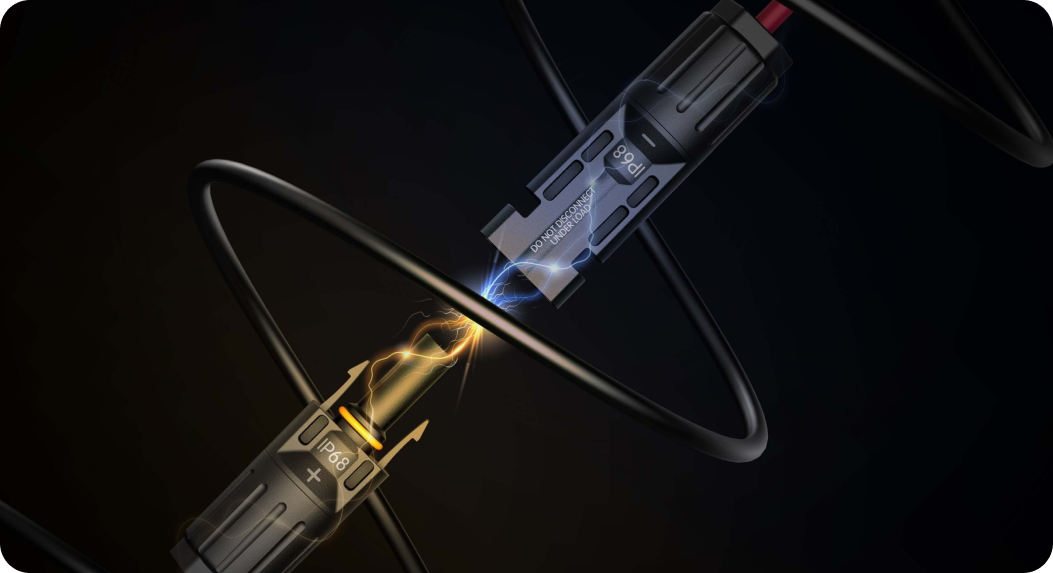 Plug-and-Play
Made with a universal connector, the entire EcoFlow solar panel range is plug-and-play. Without a complicated setup, they can easily be plugged into a solar generator or microinverter and begin capturing energy immediately.
Let's Answer Your Questions
How Can I Claim the Solar Panel Tax Rebate?
As of May 2023, individuals in South Africa can receive a rebate of 25% of the cost of new solar panels from their income tax liability, with a cap of R15,000. Only solar panels with 275W or higher are eligible. No tax write-offs are available for balance of system components like inverters or solar batteries. Learn more about the Solar Tax Incentive for Individuals and how to apply here. 
How Much Can I Save on Solar Panels With the Solar Panel Tax Incentive for Individuals?
Since May 2023, individual taxpayers in South Africa can claim a 25% tax rebate on purchases of new solar panels with rated power of 275W or higher. The maximum you can save is R15,000. For example, if you bought 8 x400W rigid solar panels at a cost of R5,000 each for a total of R40,000, you would save R10,000. If you bought 16, you would save R15,000 due to the cap. Learn how to apply here.
What does a solar panel do?
A solar panel converts sunlight into electricity. It is made up of cells that have a special property called the photovoltaic effect. When sunlight hits these cells, it creates an electric current by energizing electrons in the material. The flow of energized electrons generates direct current (DC) electricity. Multiple solar cells are connected together to form a solar panel, and multiple panels are wired together to create an array. The DC electricity is then converted to alternating current (AC) using an inverter, making it compatible with the electrical system of a building. The generated electricity can be used to power appliances and devices, stored in batteries, or sent back to the grid.
How many solar panels are needed to run a home?
The number of solar panels needed to power a home depends on various factors, including the home's energy consumption, the location's sunlight availability, the efficiency of the solar panels, and the desired level of energy independence. Here's a general guideline to help you estimate:
Calculate your energy consumption: Determine your home's average monthly or annual energy use in kilowatt-hours (kWh).
Assess sunlight: Consider the amount of sunlight your location receives daily and throughout the year. Areas with more sunlight will require fewer solar panels.
Determine solar panel capacity: Solar panels are typically rated in watts (W) or kilowatts (kW). To calculate the number of solar panels required, you need to know the capacity of each panel. For example, if you had 100W panels, 1 kW would equal ten panels.
Consider efficiency and losses: Solar panels have an efficiency rating that indicates the percentage of sunlight they can convert into electricity. Consider this efficiency when calculating the number of panels required.
Calculate the number of panels: Divide your energy consumption by a solar panel's average daily energy production. This calculation will give you an estimate of the number of panels needed.
Are solar panels worth it?
Solar panels can be a worthwhile investment for many homeowners. Here are some factors to consider when evaluating the value of solar panels:
Cost savings: Solar panels can significantly reduce or even eliminate your monthly electricity bills.
Return on investment (ROI): ROI can vary depending on factors like installation costs, energy savings, and incentives.
Increasing property value: Solar panels can enhance the value of your property.
Environmental benefits: By installing solar panels, you can reduce your carbon footprint and contribute to a more sustainable future.
Incentives and tax benefits: Depending on your location, there may be various financial incentives available to support the installation of solar panels.
Which solar panel is best?
The "best" solar panel depends on various factors, including your specific needs, budget, location, and preferences. Here are some key considerations when evaluating solar panels:
Efficiency: Higher-efficiency panels can generate more electricity in the same amount of space.
Quality and reliability: Choose solar panels from reputable manufacturers known for producing reliable and durable products.
Warranty: Look for extended warranties that cover product and performance.
Cost: Consider your budget and the cost-effectiveness of solar panels.
Reviews and reputation: Research customer reviews and feedback to gain insights into their performance, reliability, and customer satisfaction.
Aesthetics: If the appearance of the solar panels is essential to you, consider options that offer a sleek and visually appealing design.
Can a house run on solar power alone?
Yes, it is possible for a house to run on solar power alone. A house can generate enough electricity from solar panels to meet its energy needs by installing a properly designed and sized solar energy system. This typically involves the installation of solar panels on the roof or in an open area with good sunlight exposure.
To achieve a self-sustaining solar-powered home, several components are typically included in a solar power system:
Solar panels
Inverter
Battery storage
Net metering (grid connection)
It's important to note that the feasibility of running a house solely on solar power depends on factors such as the size of the solar system, energy consumption, available sunlight, and local regulations. Additionally, energy efficiency measures, such as using energy-efficient appliances and optimizing energy usage, can help maximize the effectiveness of a solar-powered home.