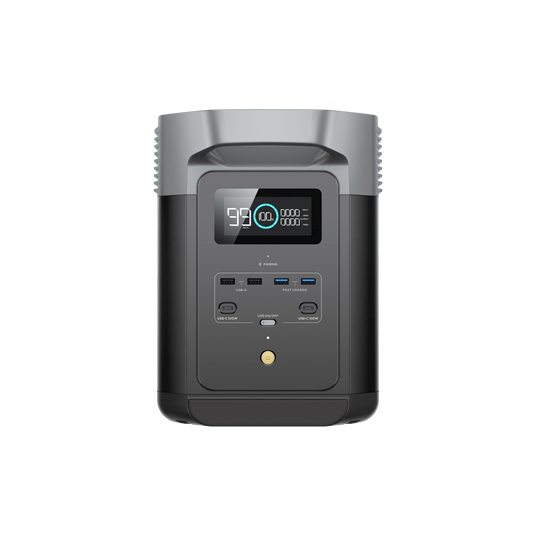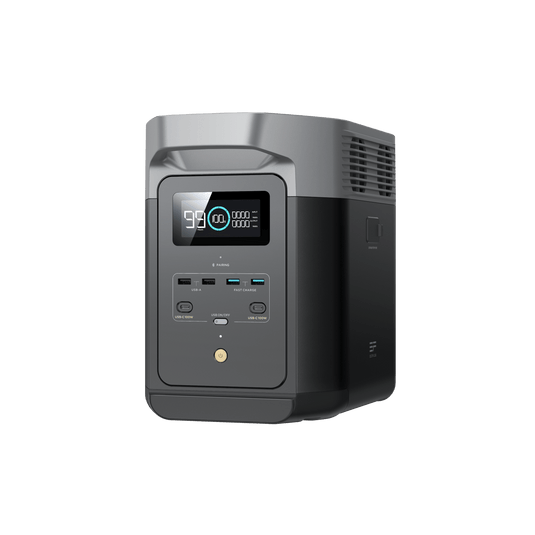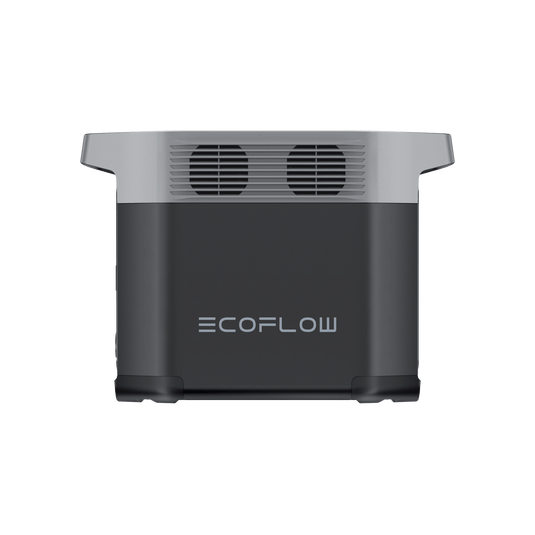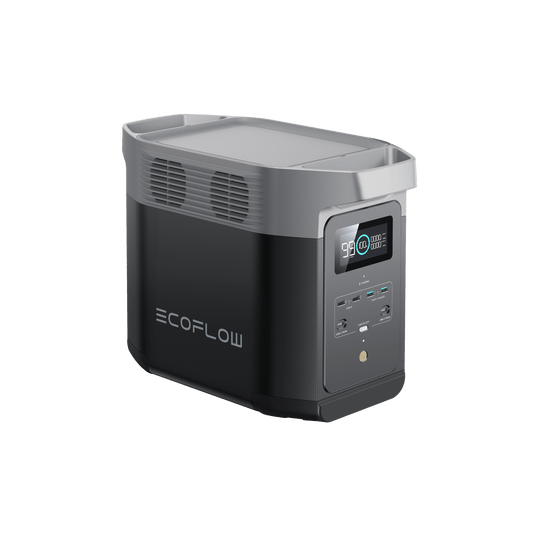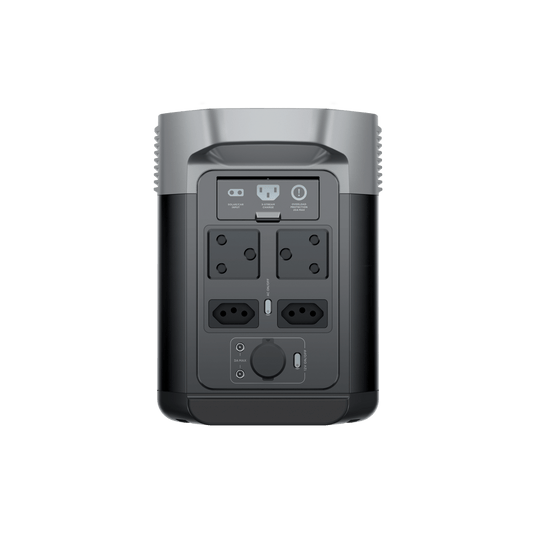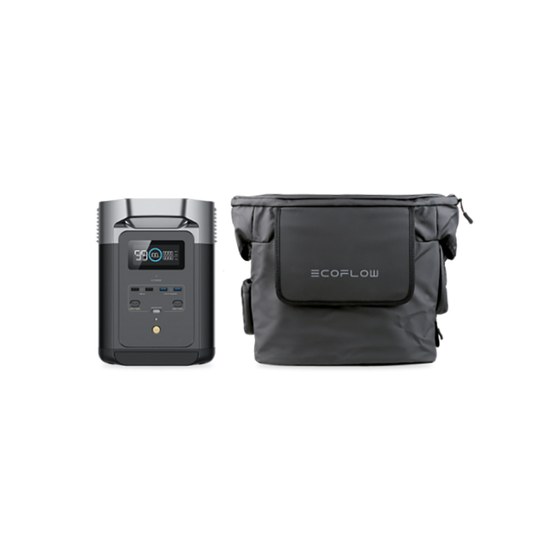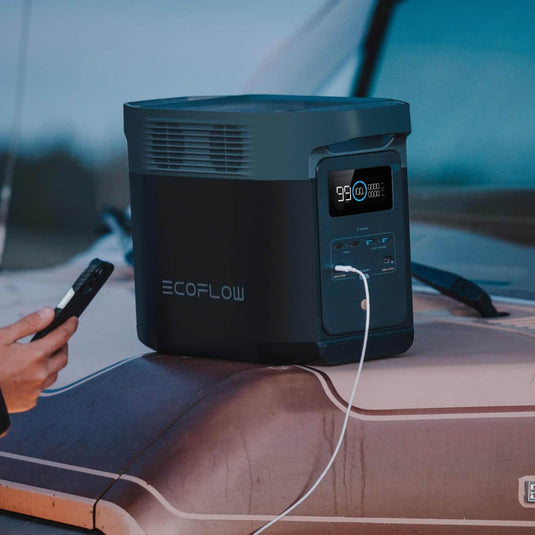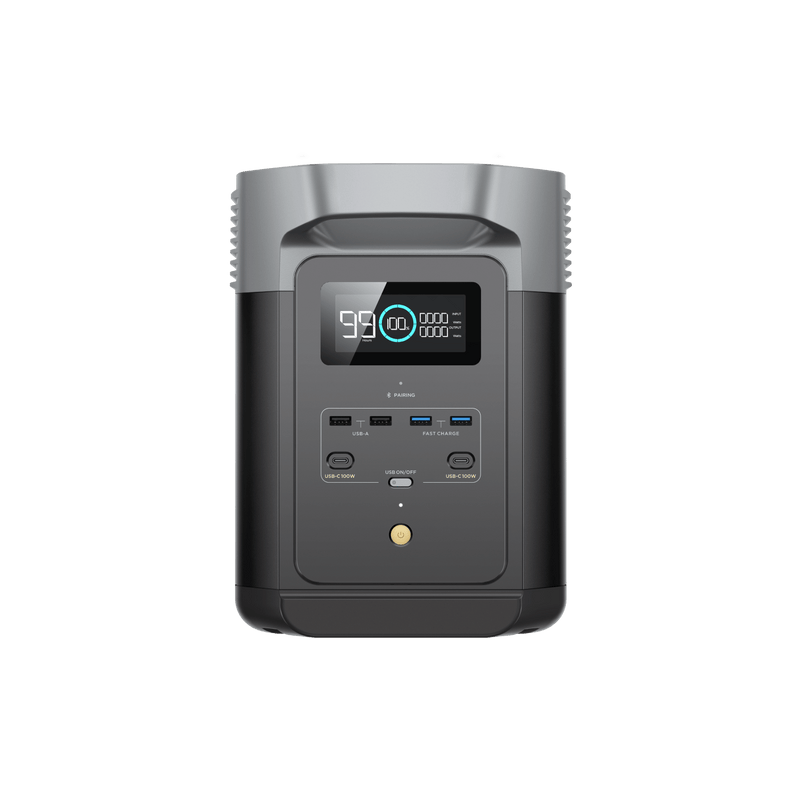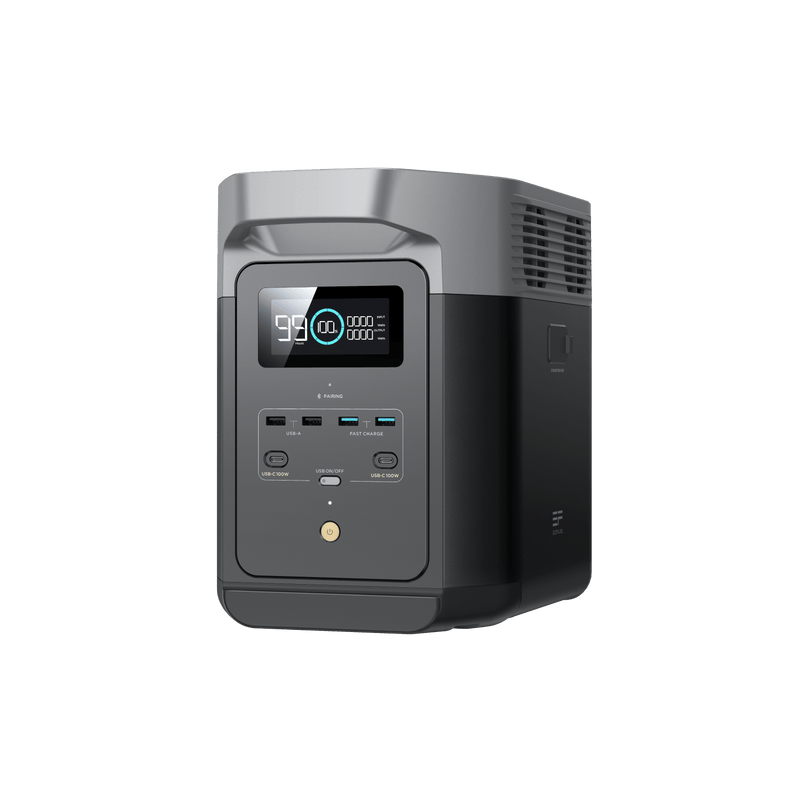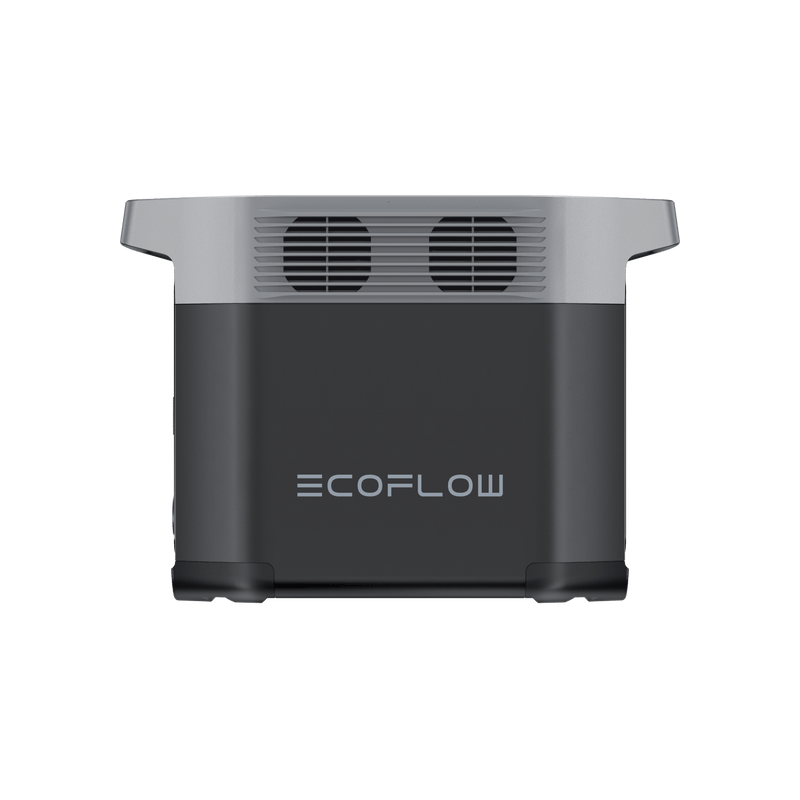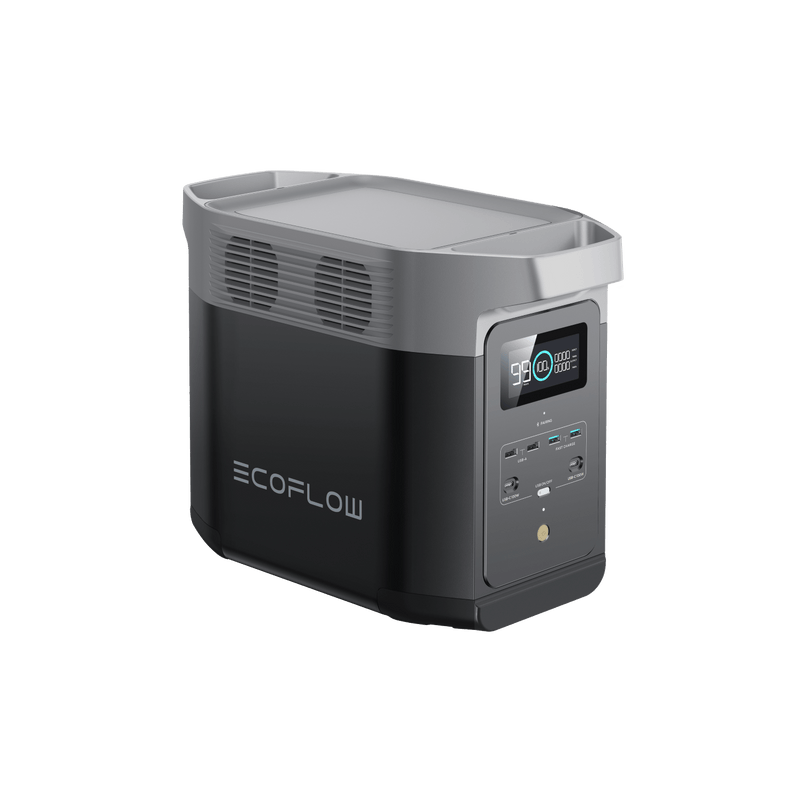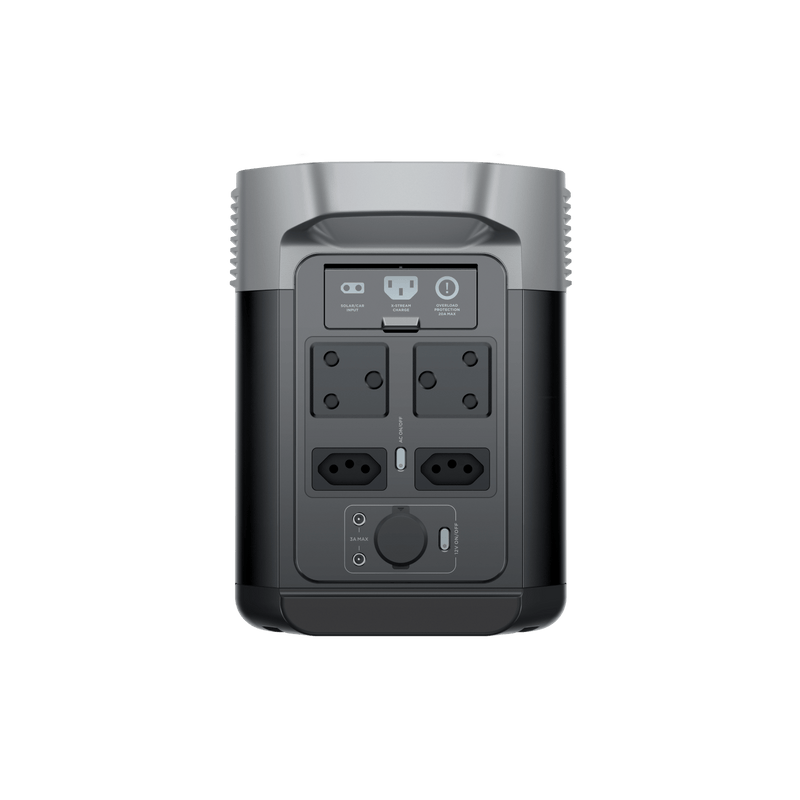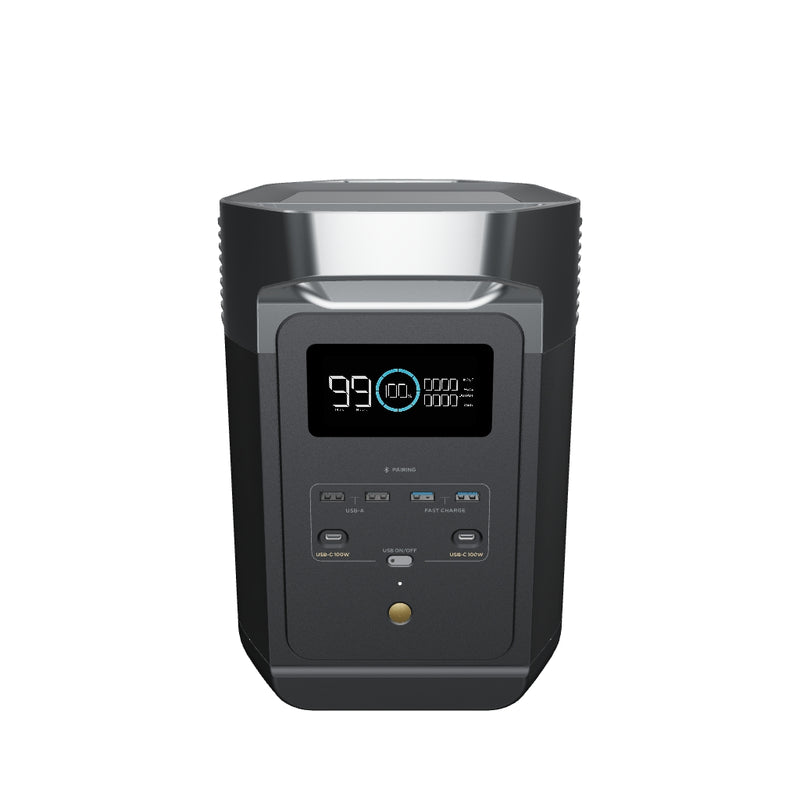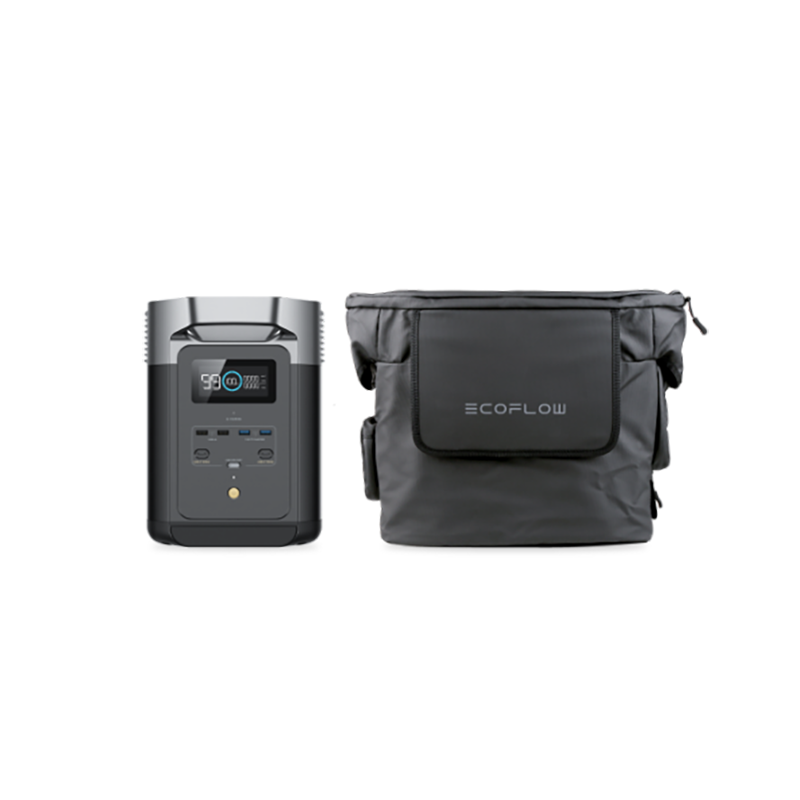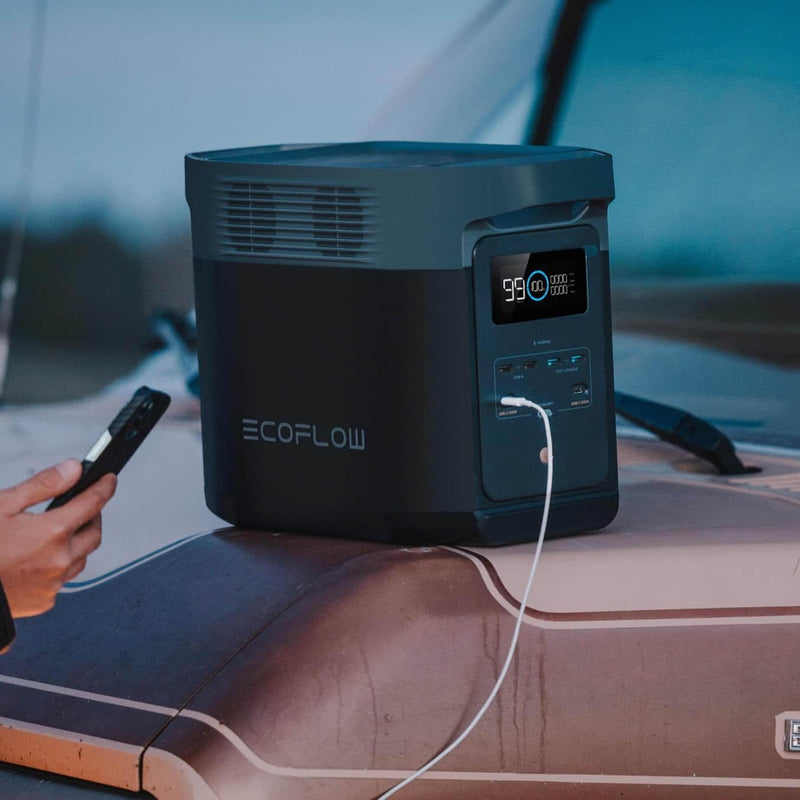 Plug and play home backup power
A transfer switch is a device that switches a load between Grid Power and Backup Power, simply connect EcoFlow Portable Power Station to your main panel via a Transfer Switch for instant home backup (Transfer Time 1~2s).
*Picture for reference only, subject to our available products.
*AC Plug Cable is needed to connect Power Station with Transfer Switch, and be provided by the electrician.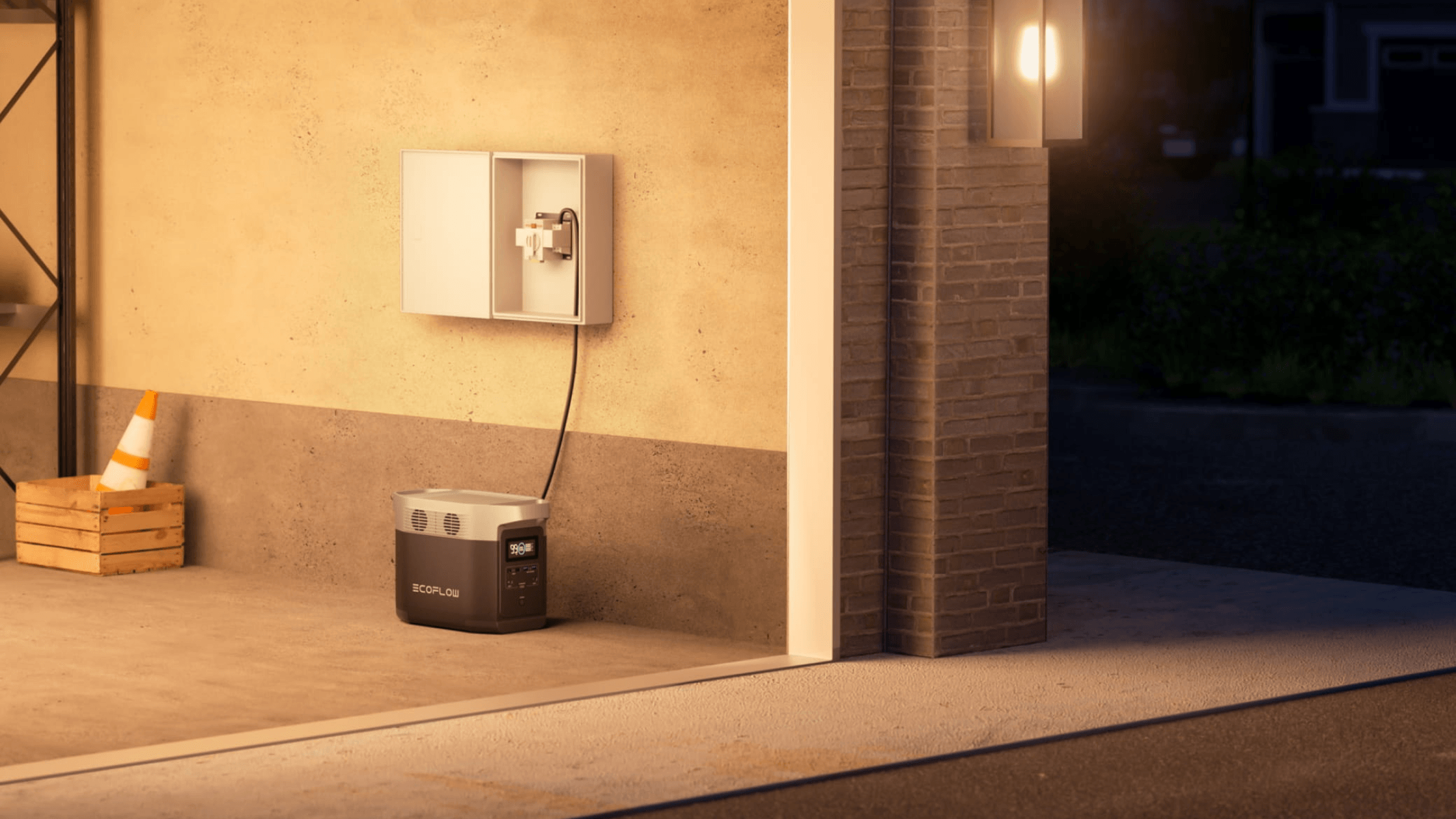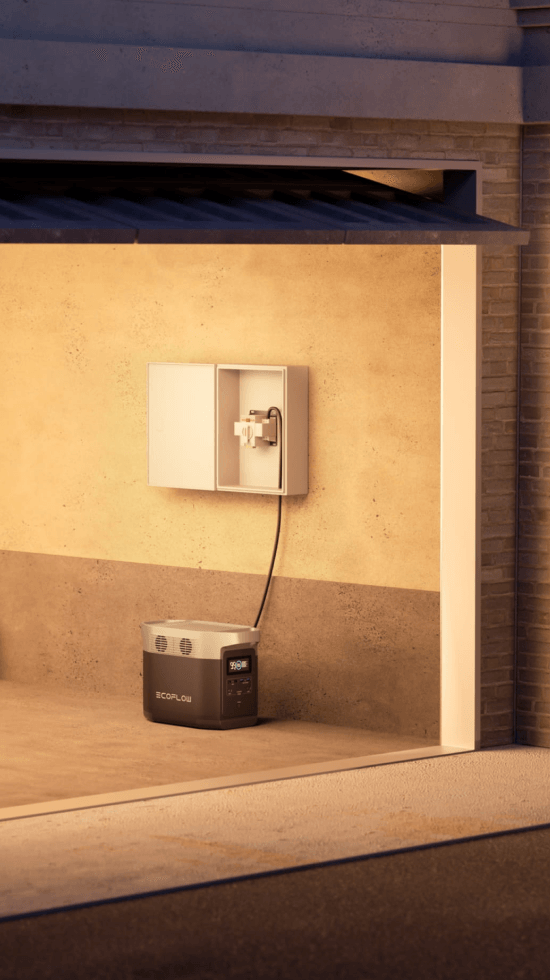 EcoFlow DELTA 2 is a must-have for any home that puts power security & comfort first. Ensure you're prepared with the power station made for almost any situation your family could find themselves in. All while staying green.
Make it a triple. Expand capacity.
With a capacity of 1kWh to start with, you've got enough energy for your essentials for hours on end. Need even more? Add on the DELTA 2 extra battery to reach 2048Wh, or add on the DELTA Max Extra Battery to hit 3040Wh. Great for home backup or everyday appliances.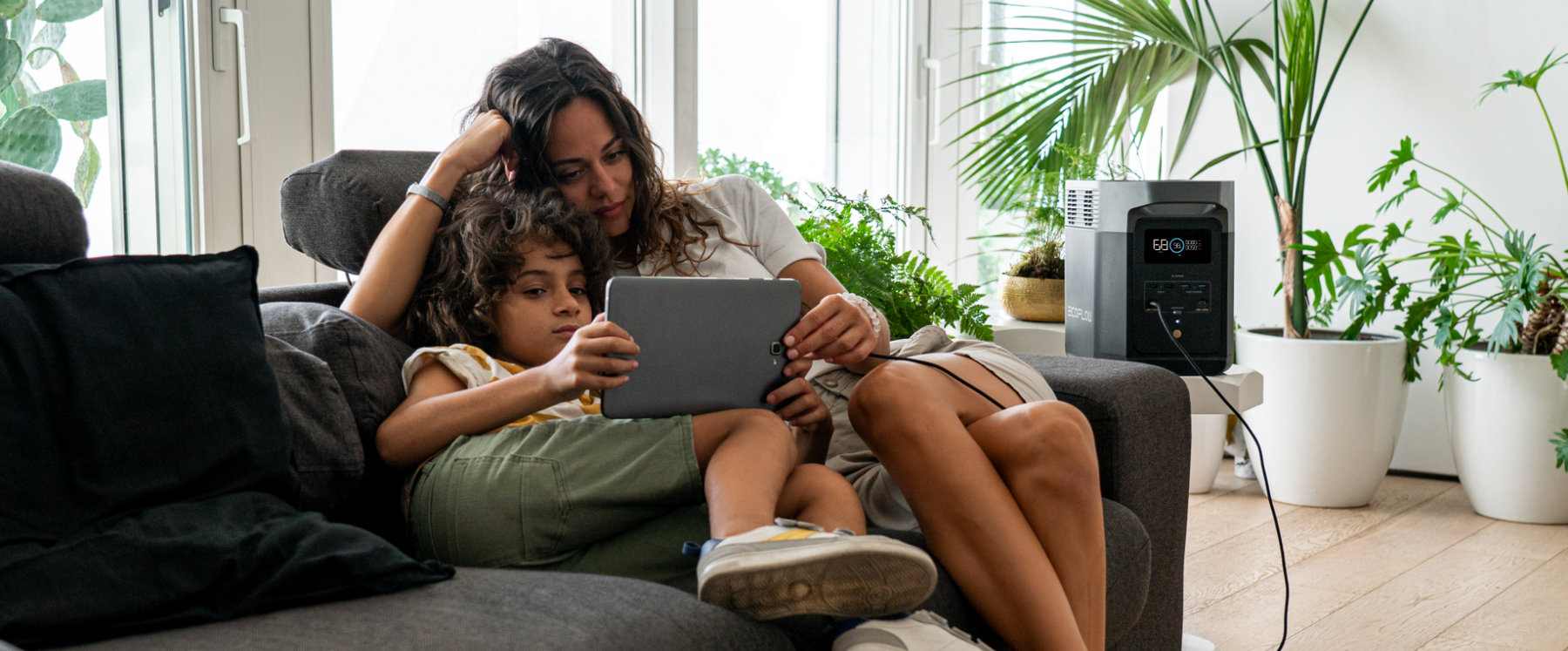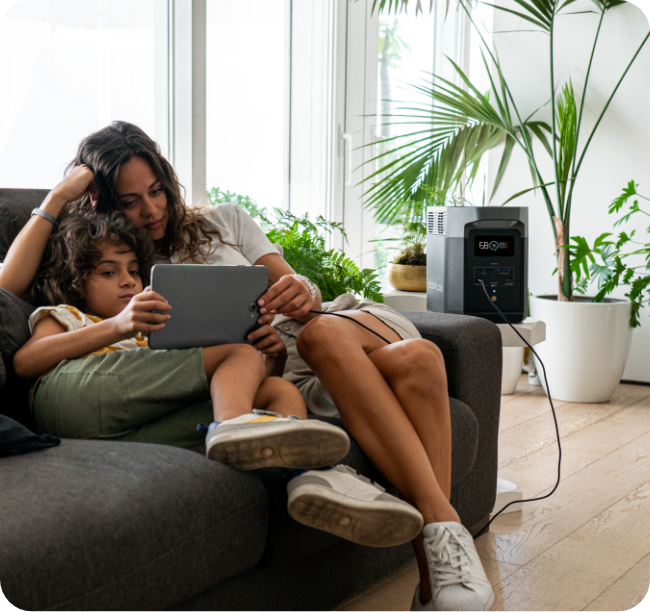 Use an extra battery to expand capacity. Great for extended power outages, long camping trips, or your RV.

2kWh
with 1x DELTA 2 Extra Battery
3kWh
with 1x DELTA Max Extra Battery
DELTA 2
DELTA 2 Extra Battery
DELTA Max Extra Battery
Use an extra battery to expand capacity. Great for extended power outages, long camping trips, or your RV.

2kWh with 1x DELTA 2 Extra Battery
3kWh with 1x DELTA Max Extra Battery
DELTA 2
DELTA 2 Extra Battery
DELTA Max Extra Battery
Power pretty much anything.
A 1800W AC output means you can power more than 90% of your home appliances. That's your microwave, fridge, or even coffee maker covered in a blackout. Or, try plugging in up to 13 devices at once for when you're around the table with the family. Unlike other brands, DELTA 2 can prevent overloading from devices up to 2400W thanks to X-Boost technology.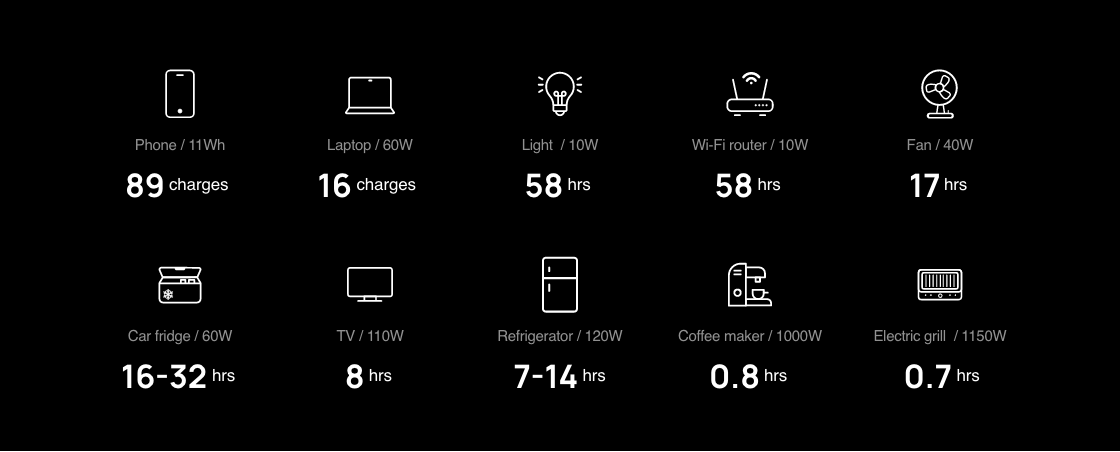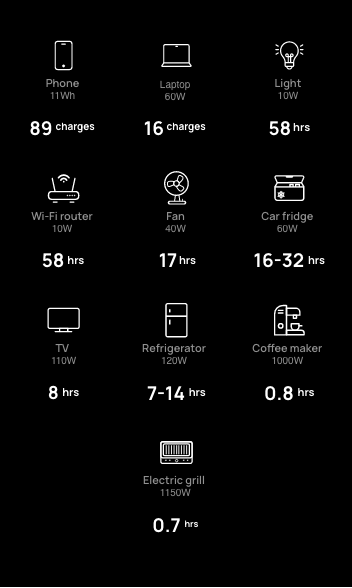 Go green without sacrificing speed.
Pair with solar panels and charge in
as fast as 3-6 hours

with 1x400W, 2x220W portable solar panels. With its MPPT (Maximum Power Point Tracking) smart algorithm, DELTA 2 can actively detect the voltage and current in real-time to reach the maximum power point with >98% efficiency. That means a more efficient charge than other brands.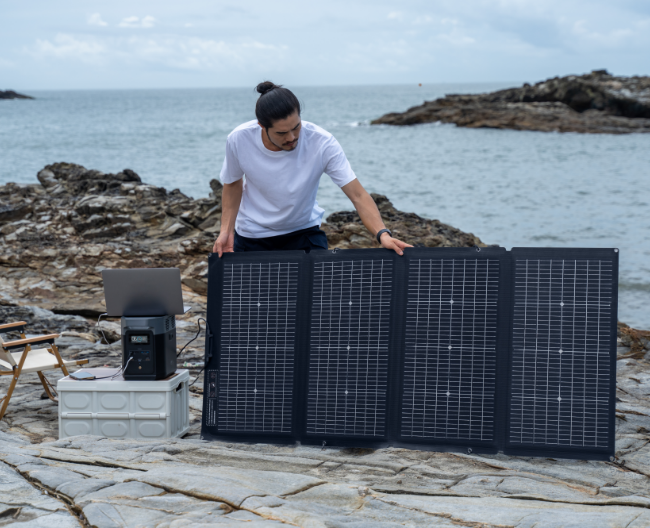 Pick from a range of solar panels to get the speed you need (110W, 160W, 220W, 400W). With that, you've got access to free energy anywhere.

Built to last 6x longer.
Finally… tech that's made to last. Get years of regular use until hitting 80% of its original capacity. That's down to its LiFePO4 battery chemistry giving you 3000+ full charge and drain cycles.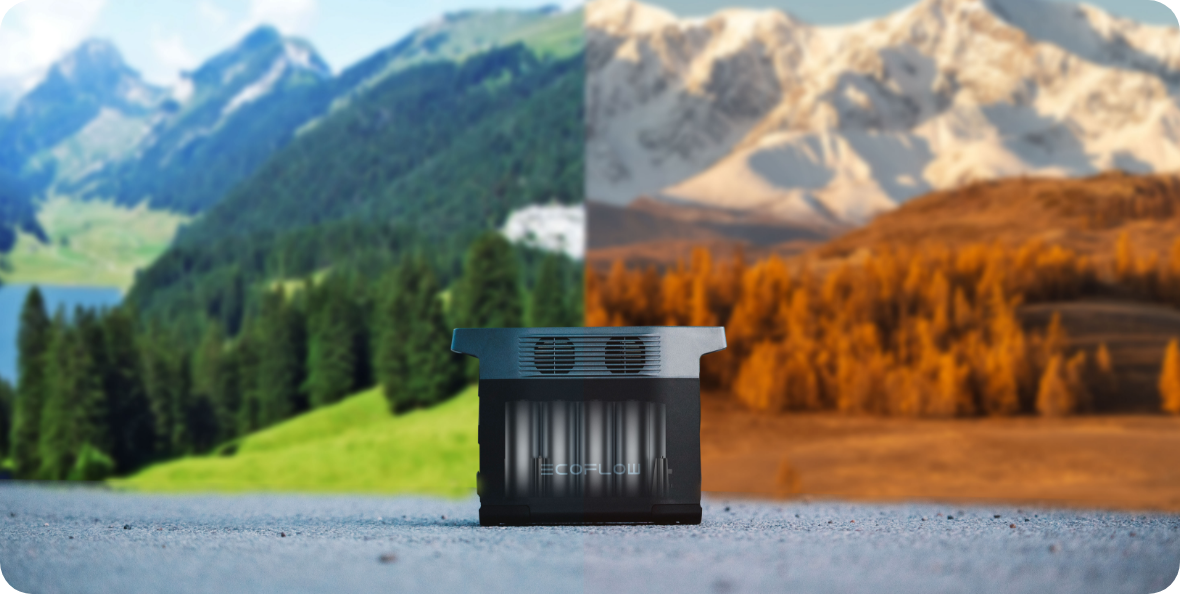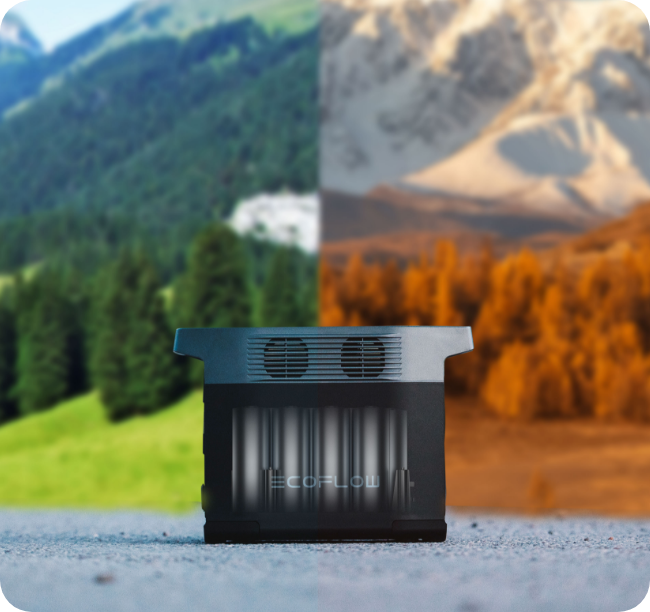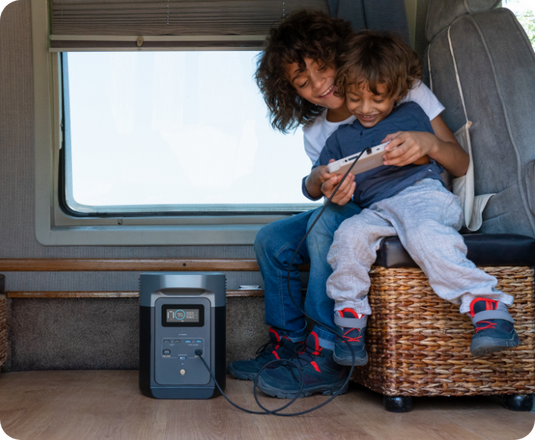 Safety first
DELTA 2's built-in battery management system regulates vitals to keep it safe, secure, and built to stand the test of time.

Ready for emergencies.
Use as an EPS (emergency power supply) to auto-switch to battery power when the grid goes down. Great for blackouts to keep your essentials running.
Control from anywhere.
Use the EcoFlow app to control your DELTA 2 from anywhere using Wi-Fi. Link with Bluetooth when off-grid. Either way, you can check charging data, customize settings and adjust the charging speed with ease.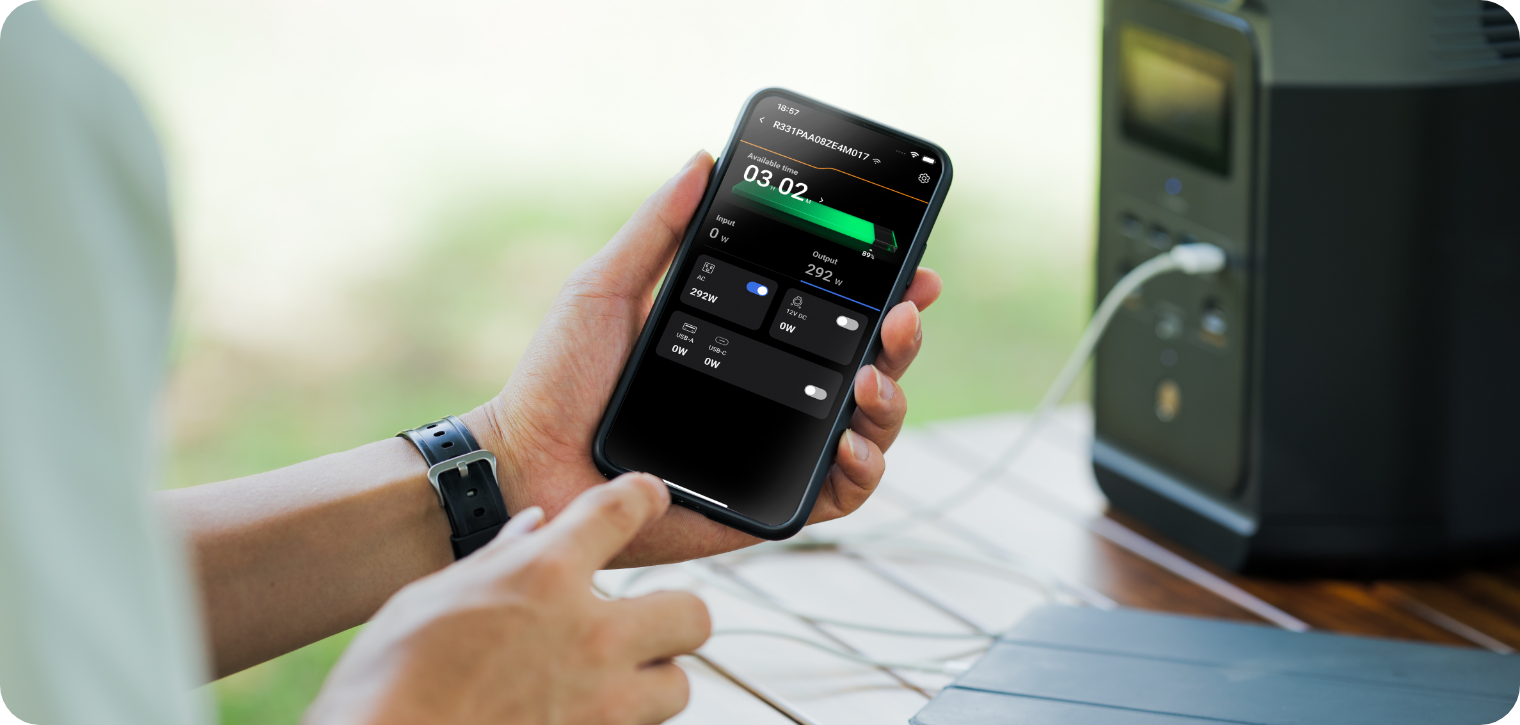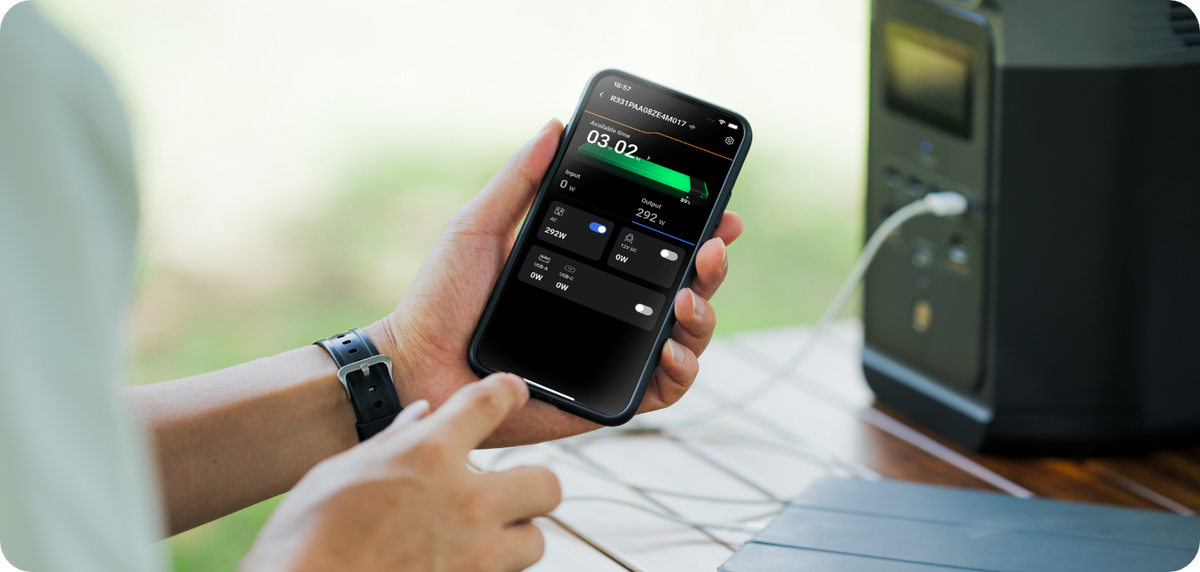 Part of an ever-growing ecosystem.
DELTA 2 is just the start. Link with a wide variety of EcoFlow products such as portable solar panels, the Wave portable air conditioner, extra batteries and so much more. All to deliver a one-stop power solution for your family.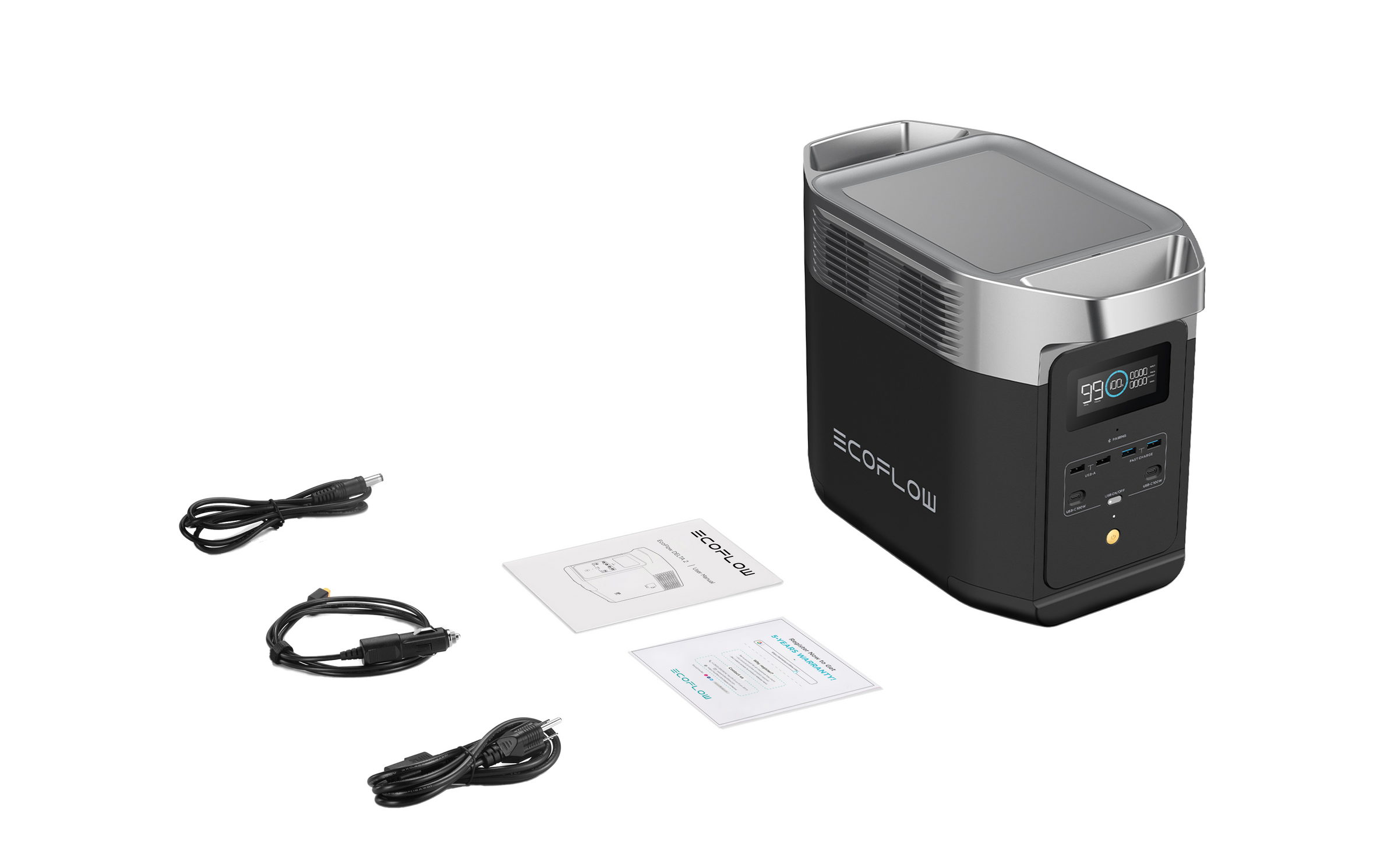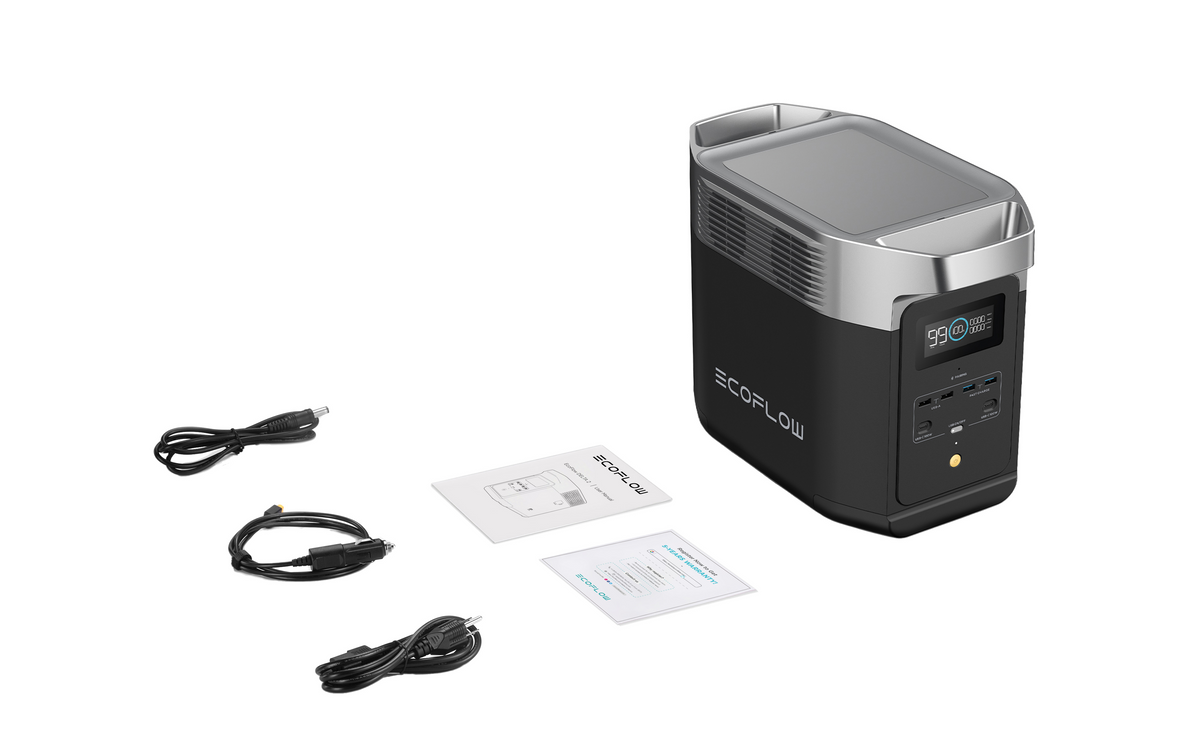 1. DELTA 2 2. AC charging cable 3. Car charging cable 4. DC5521 to DC5525 cable 5. User manual 6. App quick start guide 7. Warranty card

*The solar to XT60 charging cable is included only with purchase of EcoFlow portable solar panels.
Frequently Asked Questions
The EcoFlow transfer switch comes with a 1-year warranty.
Firstly, installation of the transfer switch should be done by a licensed electrician or a qualified professional who will issue you a Certificate of Compliance (COC) afterward so that the insurance company won't repudiate any electrical-linked claims in the future. Secondly, to avoid the unit tripping out, you can discuss with your electrician which circuits or appliances should be excluded based on your electricity consumption and the power station capacity you own, such as the stove, geyser, and pool pump. Last, be aware of putting the transfer switch into a box to prevent electric shock. It is only viable with indoor circuit breaker panels.
Generally, the installation costs include labour, traveling, cabling, protection box, and COC. It varies with many factors like traveling distance and the length of cable. The exact installation cost will need to be estimated by an electrician based on the specifics of your home's electrical circuits. We highly recommend that you source different electricians and get comparative quotes.
We have authorized some qualified installers in most of Johannesburg and Cape Town. Please contact us Monday to Friday, 8:30 a.m. to 5 p.m. GMT+2 at +27 80 088 0002 (toll-free) or
support.za@ecoflow.com
for more information. If you live elsewhere or aren't satisfied with the installation price, you can also go to
our Facebook community
and leave your question. There are many enthusiastic EcoFlow users who can help you.
Installation of the transfer switch should be done by a licensed electrician or a qualified professional.
EcoFlow Portable Power Stations have safety mechanisms to prevent overloads. And it's also crucial to exclude high-power appliances or circuits.
The transfer time is about 1 second. This transfer time may seem long, but it actually provides two important benefits. Firstly, it helps to prevent voltage surges that could otherwise harm your household appliances during sudden power fluctuations, which is crucial for protecting your appliances. Secondly, this transfer time is crucial for our products' longevity and safe operation.
a.Transfer Switch is divided into MTS and ATS, MTS is a manual switch, ATS is an automatic switch; SHP is an automatic smart switch, which can monitor the power consumption of each open circuit and control it remotely at the same time;Understand the situation of each line more accurately
b.Capacity difference: SHP has two ports and can be connected to 2 groups of DP (each group of DP can be connected to 2*DP EB); TS can be connected to a group of DP or a whole group of Power hub+LFP.
c.Different cables: SHP uses EF's unique Infinity cable (Delta Pro ONLY); TS uses Generator cord;
d. SHP can only connect to DELTA Pro, Transfer Switch can connect to all power stations (if power is satisfied).
Extra Battery
Support one DELTA 2 extra battery or DELTA Max extra battery
AC Output
4 outlets, 1800W total (Surge 2700W)
Max Device(s) Power (with X-Boost)
2400W
USB-A Output
2 ports, 5V, 2.4A, 12W Max
USB-A Fast Charge
2 ports, 5V, 2.4A / 9V, 2A / 12V, 1.5A, 18W Max
USB-C Output
2 ports, 5/9/12/15/20V, 5A, 100W Max
Car Power Output
1 port, 12.6V, 10A, 126W Max
DC5521 Output
2 ports, 12.6V, 3A, 38W Max
Solar Charging
11-60V, 15A, 500W max
Car Charging
Support 12V/24V battery, 8A
Battery Chemistry
LFP (LiFePO4 battery)
Cycle life
3000 cycles to 80+% capacity
Connectivity
Wi-Fi & Bluetooth
Dimensions
15.7 x 8.3 x 11 in / 400 x 211 x 281 mm
Net Weight
27 lbs / 12 kg
Operation Mode
Auto/Manual
Electrical Life
1,500 times
Short-circuit switching (breaking) capacity
5kA
Operating Frequency
50HZ/60HZ
Operating Temperature
-5℃~40℃
Mechanical Life
6,000 times
Short-circuit switching (making) capacity
7.65kA
Great Product!
We bought the Delta 2 after searching and weighing all of our options. EcoFlow seemed like a no brainer compared to the rest of the products available in South Africa. The charge time is great, we use it for our TV (50 inch) our wifi router as well as the work station which has a laptop a second screen and a printer. The 30ms switch time works like a charm, Wi-Fi and TV does not cut out at all and stays switched on. It lasts two hours and still has 60%+- battery left. We will be buying the River 2 to also add to the arsenal which will power our freezer and fridge. Delta 2 is recommended over the Delta 1 as the battery is far better and has 3000+ cycles guarantee on the battery compared to 800 on the Delta 1.
Happy customer
Bought my Ecoflow Delta 2 in May, my wife is very happy! Good quality product and i will buy the Delta Max extra battery soon. Only one issue with the Delta 2, where can I buy the new sans 164-2 plugs that will fit the 2 x plug inlets at the back? I bought 2 x plugs from my local electrical supplier, the pins lign up but is slightly fatter and do not go in.
Disappointing Service
While EcoFlow has a good name around the world and produces a good product, after purchasing the Delta 2 in South Africa, it is difficult to get support for the product. The delta 2 rated at 1800 watts and 2400 watts on boost, is unable to run the microwave rated at 1350 watts. It only works now and then, running for long periods once going. You never know if it will start up or not. The support team is telling me that the microwave is too big for the Delta 2. That does not make sense and after spending so much money, it should be able to constantly do what it says it can do…. This is very disappointing. Here's hoping someone will see this and help us.
Delta 2 is fantastic
I love my Delta 2, in fact so much that I bought the Delta 2 Extra battery as well. And with my solar panels hooked up to it, I almost rarely make use of grid power, even when boiling my kettle or using my microwave.
Lasts me an entire night watching TV, 55" or 65", running lights, fridge, electric blankets, bedside lamps, the occasional electric blankets for when it gets REALLY cold as well as my Air Purifier right through the night until my solar can take over again the next morning.
Just wished the Smart Generator would have been compatible with this unit for those emergency, VERY LONG lasting cable theft outages at night.
Delta 2 Stress test...
Ok, so today when I got home at 14:30 Friday 28/07 it's load shedding till 16:30, I have had my Delta 2 for two months just for TV Wi-Fi and a lamp so I decided its time to stress test this unit as I also have a laser engraving business on the side at home... I unplugged the unit and moved it to my workshop (portable right) and have plugged the following in... Sony Bravia Tv, 50W Fiber Laser, Desktop PC, Extractor Fan, Fiber incomer box, Zyxcel Router, network switch, LED strip light, the unit is also supporting two other UPS type devices... to be honest I expected it to give me maybe a half hour runtime with all this stuff going on but NO Ecoflow continues to live up to its well deserved reputation AND wait for it... with all this running it gave me a total runtime of just over 2H36m And yes... I used the fiber laser to mark at the time of measurement... well done Ecoflow on living up to your promise and design standard, if I had been able to add solar to the unit by this time I am almost sure the Delta 2 would not even notice the power draw... my goal will be the flagship from Deltaflow Pro and all the solar bits plus extra battery that goes with it, that would take my business and my home to the next level indeed !! (c'mon Ecoflow... 🤣🤣🤣)